Charles L. Bowers School Farm – Bloomfield Hills School District.
Bowers School Farm, 1219 E. Square Lake Road, Bloomfield Hills, Michigan, 48304.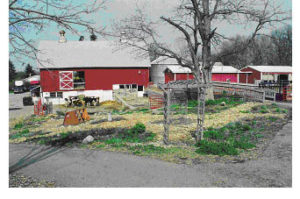 The Oakland County Master Gardener Society, Inc. is the largest Master Gardener Society in the State of Michigan. Although MGSOC offers many opportunities for education and volunteering, The Charles L. Bowers School Farm is our largest project.
Charles L. Bowers School Farm is a working school farm with an emphasis on educational activities for all age groups, including students working at the farm, visiting school groups, and an active 4H Club. The farm is part of the Bloomfield Hills Schools and is a partner with Michigan State University Extension, the Bloomfield Historical Society, and the Master Gardener Society of Oakland County, Inc. The Bowers Farm gardens open in April and the date is usually tied to the first of two Open Barn weekends. Workdays are weather dependent and usually late October is time to close down for a winter's rest.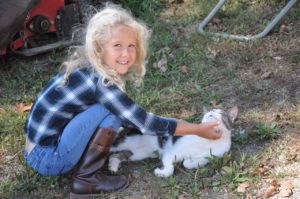 A favorite of onsite visitors is the Farm Store and Kitchen, serving MSU Dairy Store Ice Cream, selling farm-fresh eggs and organically-grown vegetables from the farm.
The Saturday volunteer group will be growing a limited number of vegetables and helping maintain the current perennial gardens. The Pioneer Garden will grow vegetables authentic to the time of the Craig log cabin.
One of the newest and most exciting projects is the "Children's Discovery Garden." First conceptualized in 2019, EMGs have supported the design and development with Dr. Norm Lownds, Curator at MSU 4-H Children's Garden in East Lansing. This project will bring on of the most unique, hands-on horticultural learning and discovery for area youth across Greater Detroit. EMG's also partner with the farm for Fall Farm Fest, with volunteers providing tours of the garden and answering horticulture questions. Please see the diagram below: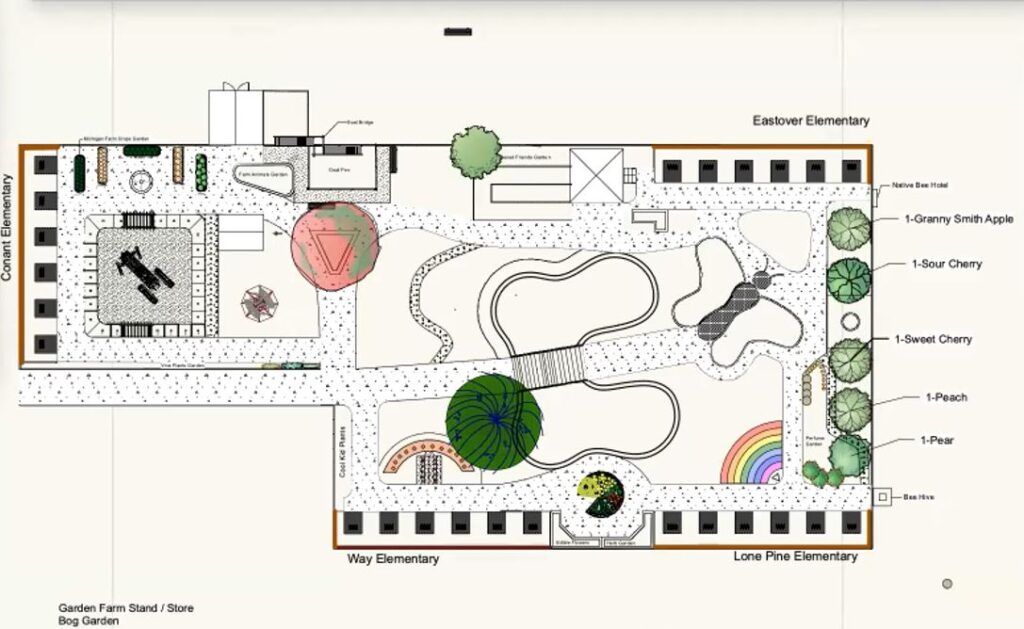 Learning and Impact  The educational component of our work there is significant. We are all about EDUCATION! Often when we are working there, schoolchildren, as well as adults, come thorugh. We pride ourselves on being able to answer their questions, and pique their curiosity about and interest in gardening. The EMG-curated educational gardens are a highlight during events at the farm.
Budget Narrative  At the end of 2019, the Michigan State University Value of an Extension Master Gardener volunteer hour was $24.69/hour. The 2019 EMG economic contribution value to Bowers Farm was $30,517, and the 6-year (2014-2019) EMG economic contribution value to Bowers Farm was $163,758. Also in 2019, 1,140 pounds of produced was donated to Open Door Pantry by Beth Brown and the Saturday Plant-A-Row volunteers.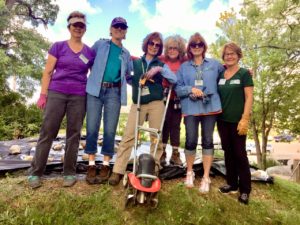 The 2021 information about volunteering at the farm is below:
Wednesday Volunteer Hours – 9 a.m. to Noon.
Contact: Sally Bolle at sallybolle@comcast.net or 248-909-8668.
Team Leaders: Nancy Schmid, Christine VanWagoner, John Toft and Sally Bolle. To be added to the e-mail communication list for EMGs, please contact Sally.
Saturday Volunteer Hours – 8:30 a.m.-11:30 a.m.
Contact: Bethany Brown, Team Leader for specific Saturday questions at babrown25@hotmail.com, or (248) 681-8512. This volunteer group meets every Saturday except Holiday weekends.
You must wear your Master Gardener name badge to be on the grounds of the school. In 2021, COVID mask and social distancing will be in effect.
REQUIRED: FROM MSUE:
If you are volunteering during 2021, please read and sign one of the forms below. These forms are needed to volunteer in person. When you have successfully completed the form a message will appear letting you know. These have been updated for 2021 and need to be completed even if you signed a form last year. As a reminder, volunteer requirements have been suspended for 2021, and certification deadlines for trainees have been extended. At this time, the restriction on face-to-face programming remains.
 Volunteers: Everyone volunteering at a garden this season needs to sign one of the agreements. The form sends your responses directly to me:
Photo Credits:  Sally Bolle and Margy Truza